Air Grid mats are an Anti Fatigue Mat for demanding work areas wet or dry are made from 100% Natural Rubber and assist to relieve the strain from constant standing. Their Leather grain patterned surface provides excellent traction for user and suction caps on base give the mat excellent floor adhesion.
Drainage holes allow the exiting of spilt liquids off the Mat surface with bevelled Edges for added safety.Air Grid Mat are used in areas such as bars, checkouts, counters, food processing areas, kitchens, production lines, workbenches and workstations.  Assorted sizes available including custom sizes.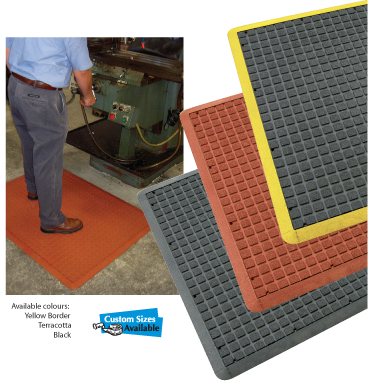 • Hard-wearing and long lasting in the heaviest of traffic.
• Open grid construction allows extremely high soil holding capacity
• Effective debris drainage for grit, sand & even snow.
• Flexible format contours to uneven surfaces.
SHAPES & SIZES:• Easy to remove and clean.
600mm x 900mm
900mm x 1200mm
900mm x 1200mm – Grease Proof
900mm x 1200mm – Yellow Border
900mm Runner
1200mm Runner
Custom sizes are Also Available
For more information please call one of our friendly staff on 0406 330 907