Ergo Tread Mats are designed to relieve the strain from constant standing Ergo Tread Anti Fatigue Mats are for demanding dry work areas. They are made from 100% Natural Rubber with domes on Mat surface designed to improve circulation in feet and Bevelled Edges for added safety.  Used in dry areas such as at checkouts, counters workbenches and workstations.  Assorted sizes available including custom sizes
• Suited to relieve the strain of constant standing.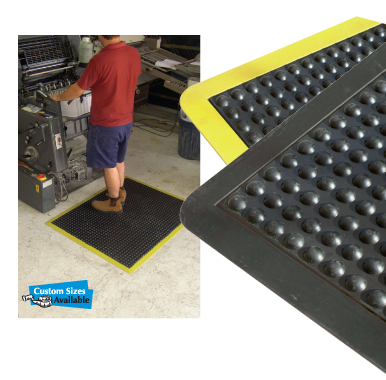 • Domed surface ergonomically designed to improve circulation and give maximum comfort.
• Ideal for checkouts, workstations and counters.
• 100% natural rubber.
SHAPES & SIZES:
600mm x 900mm
900mm x 1200mm
900mm Runner
1200mm Runner
Custom sizes also available
For more information please call one of our friendly staff on 0406 330 907