Safety cushion mats are a comfortable, Non Slip Mat for wet or dry areas used in a large number of applications including bars, checkouts, counters, food processing areas, kitchens, workbenches and workstations they are made from 100% Natural Rubber with large holes on Mat surface allow the quick drainage of spilt liquids and a honeycombe patterned surface provides user with excellent traction and bevelled Edges for added safety.
Terracotta is grease resistant and has a Nitrile composition, where as the Black is for general purpose.
• Popular general purpose safety mat.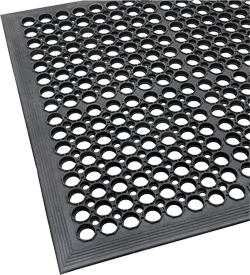 • Comfort non-slip mat.
• Bevelled edges for safety.
• Optional grease resistant formula.
• Ideal for factories, kitchens, food preparation areas, boats and behind counters.
SHAPES & SIZES:
900mm x 1500mm – General purpose
900mm x 1500mm – Grease Resistant

For more information please call one of our friendly staff on 0406 330 907