Utility Matting is a heavy duty, hard wearing and easy to clean. Stippled backing to allow air to circulate and prevent water collection. Oil and spill resistant, with anti slip qualities. UV stabilised, this product is ideal for use in truck trays, small or large ute's and vans.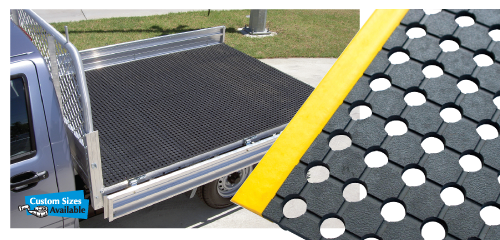 • Versatile safety matting on a roll.
• Comfortable surface with drainage holes.• Anti-slip mat can be cut to any required length, width or shape.
• Raised backing to enhance comfort.
• Ideal for factories, boats, utes, vans etc.
• Optional yellow safety edge.
SHAPES & SIZES:
Mat thickness: 10mm
900mm x 10 Metres
1800mm x 10 Metres
Custom sizes available

For more information please call one of our friendly staff on 0406 330 907